About Us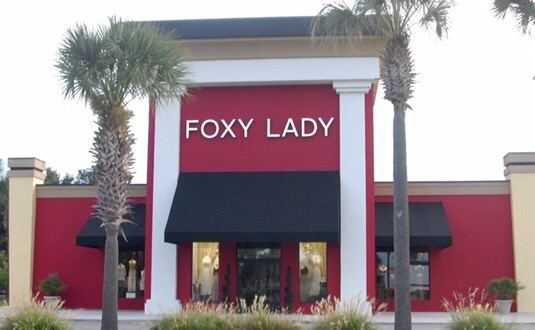 You can now keep up with What's Happening at Foxy Lady... our fabulous fashions, our exceptional events, our delicious discounts and our Foxiest Friends. Come and see us in Myrtle Beach, South Carolina... and when you are away... you can still play... on our very Special and Wonderful Website!
You will find everything you need and even everything you don't need here at The Foxy Lady. We have all the "Have to Have's" from Jewelry to Shoes to Gowns.
You'll Love it... You'll Need it... You'll have to have it!
THE FOXY LADY was founded in 1972 by Paula Benik. The original location was 504 North Kings Highway, Myrtle Beach, South Carolina. The store was located below the apartment in which Paula and her husband resided. Paula began with a $1500 loan from her father and even stocked the store with some items she designed and made herself.
In November 1974 the Hilton Hotel location was opened. In 1986 The Foxy Lady again expanded opening the store location at the Colonial Mall. Then in August of 2000, The Foxy Lady opened at Rainbow Harbor 50th Avenue North Kings Highway. After 14 years in Rainbow Harbor, Paula finally decided in 2014 to buy her own location and settle into this beautiful, spacious new store located at 4101 North Kings Highway inside Village Square.
Through all the growth and expansion The Foxy Lady's reputation as an upscale ladies fashion boutique has never wavered. Over the years The Foxy Lady has retained its focus while keeping current with the ever changing fashion trends.
A strong commitment to customer service is priority at The Foxy Lady. The large southeastern customer base is a testament to this.

The Foxy Lady takes pride in making your online shopping experience exciting and rewarding. Our professional staff is known for being extremely knowledgeable, helpful and courteous. Your business is appreciated and we show it by giving you the best service possible. Thank you for visiting our site. Please drop by again soon. We update our site often, so visit shopfoxylady.com regularly to see our new collections.
Come visit us, call with any questions, or email us with concerns. Below lists our addresses and telephone number. Click on Get Directions and type in your address for door to door directions.
The Foxy Lady Headquarters (7,000 sq feet location)
4101 North Kings Hwy
Myrtle Beach S.C. 29577
Ph. 843-692-7022
Fax 843-692-0390

Email: Foxyladyoffice@yahoo.com
Hours: Mon.- Sat. 10:00am-5:30pm

Holiday Hours:
Memorial Day - Closed
July 4th - Closed
Thanksgiving Day - Closed
Christmas Eve Day - Closed
Christmas Day - Closed
New Year's Eve Day - 10am - 5pm
New Year's Day - Closed
LINKS:
Image Consulting:
Lu Sierra: Contact Foxy Lady for upcoming schedule 843.692.7022
Photographers:
Jonathan Carter: Carter Studios
http://www.carterstudios.com/
Pageants:

Miss Universe

Miss America Organization